Reduce Your Inventory.
By watching your inventory reports, you can make sure that you order more wisely. You don't need 150 snow shovels on the shelf in the summer.
Increase Your Inventory.
You don't need 150 snow shovels in the summer, but you may need 500 more batteries for your store during the month of August. Many stores order products based on what they think they sell. If you check your inventory reports and see that you sold 500 batteries last August, it gives you a good clue to help make sure that you don't run out of batteries this August. Watching your inventory reports increases your efficiency.
Watch Your Margins.
By reading your reports you may find that you sell 10,000 batteries that cost 48 cents for 50 cents each and that you sell 100 flashlights that cost $1.98 for $9.95 each. Your inventory reports will help you to stock more products that give you greater profits and fewer products that give you the least amount of profit.
Speed Customer Checkout.
Computerizing speeds up your customer checkout. With a barcode scanner, you can checkout a customer in half the time required with a cash register. Even if you don't use a barcode scanner, your checkout is still faster and more accurate because you are entering inventory item numbers that are automatically tied to pricing specified in your accounting system for each inventory item.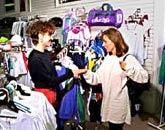 Accuracy.
Every item in your store has a price associated with it. Never again will you have to figure out how much that flashlight sells for. Your clerks will stop guessing those prices.
Keep Track of Your Customers.
Your best customers are your present customers. No matter what type of store you have, you should try to obtain the name and address of every one of your customers. Keeping a customer list is an obvious asset for a clothing store. You want your customers to keep coming back, especially when you have a sale. The importance of keeping a customer list is less obvious in a hardware store, but extremely important. Mailing to your customers periodically keeps them coming back. Your vendors may even help you pay for the cost of the mailing. Mailing to your customers is the best form of advertising - even if it is just a quick postcard listing a few new sale items. Every mailing to your customer list will always be a positive to your cash flow. What about a store such as a convenience store? You don't have to get the name and address of every customer that walks into the store, but you should get the names and addresses of your best customers.
Let us assess your needs and suggest to you a solution that works.