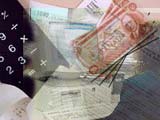 It is important to have a strong infrasturcture to support any e-solution. NetVector will assess your needs and recommend the system that is best for your company. Choose from:
Retail POS
Distribution
E-Commerce
Services

Service Management
EDI
Multi-Location
Payroll

Data Collection
Bar Coding
Fax Servers
Save time, reduce theft, speed checkout, increase accuracy, reduce costs, and make better business decisions by computerizing your retail store.
Let us assess your needs and suggest to you a solution that works.